3 Workplace Workshops
Dealing with Difficult People and Tricky Situations
Include Dealing with Difficult People & Tricky Situations Ebook
Provides solutions to relationship and personalities challenges with colleagues and customers.

Boost Your Workplace Attitude to A+ and Improve Employee Performances
Includes NEW EBOOK - Boost Workplace Attitudes and 12 Attitude A+ Eposters
Examines challenging workplace behaviours and provides positive attitudanal solutions.
Getting Savvy to Workplace Stress and Improved Work/Life Balance
Includes NEW Ebook - Stress Less and Become Your Best
Strategies for stress reduction, improved productivity, less sleepless nights and a more enjoyable life.
Full details for all workshops. Each workshop includes MP3 copy and follow up meet-up. Enjoy an informative morning to learn new skill sets that apply to both your professional or personal lives. Come early to stroll around the boats and breakfast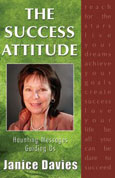 Janice has presented these and similar workshops to a wide range of corporate and small businesses including NZ Defence Force, Alsco, G W Scott Accountants, Epsom Girls Grammar, Life Education, Eldercare - Green Valley, Bartercard, IAG Insurance, Depart of Labour, University Childcare, Air NZ.
VIP includes:
VIP Check in
VIP Front Row Seating
Lunch with Janice at RNZYS for additional coaching discussion
$120 per person
Who is Janice?
Professional Speaker * Business Trainer * Success Coach* Author * Script Writer * President of International Council of Self Esteem * Founder of
Janice is a 'been there/done that lady', who teaches about self success in professional and personal life. In the past 5 years, Janice has overcome adversity with challenges across all areas of her life.
What clients say:
THANK YOU!! Everyone learnt heaps. * Your manner and presentation was great, enhanced by your obvious enthusiasm for the topic. * We all enjoyed your interactive, creative presentation, Janice provided a fast paced easy to understand presentation that covered a wide range of material effectively * She opened my eyes to anew perspectives that will help me progress in life.